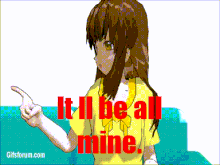 Lille457 is the Scratch account for Hannah-Chan. She shared over 1000 projects, favorited over 50 projects, follows over 300 other Scratchers, and is followed by over 300 Scratchers.
How she discovered Scratch
Edit
Hannah-Chan discovered Scratch when she and her brother saw a Penguin Chat 3 project. They thought Scratch was interesting, so her brother made an account, and later, she did, but didn't have very much activity until 2010, when she uploaded her first project.
Hannah-Chan got her account when she was a Club Penguin freak.
Her username is less original than her brother's.
Her account was made back when she was an idea-thief.
She is one of the longest-lasting scratchers on scratch. She was active for over 6 years and she is still active today.
This is her only F4F account.
This is the second website she has a fan group on, called "Lille457 fandom", proceeded by KissKissHannah, and succeeded with AsahiGirl.
Community content is available under
CC-BY-SA
unless otherwise noted.